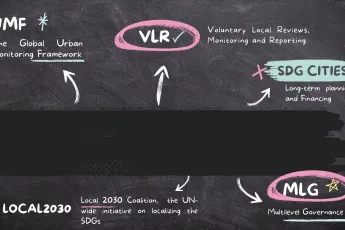 Flexible Content Templates
What is SDG Localization?
SDG localization is the process of transforming the SDGs into reality at the local level, in coherence with the national frameworks and in line with communities' priorities. Localization means collaboration among all stakeholders and coordination across sectors and spheres of governance. It is a two-way process where the local meets the national and the global, and vice-versa.
Local and regional governments are the tier of governance closest to local communities, able to better understand their needs and priorities, and to better address policymaking. Local and regional governments (LRGs) lead territories and local communities' development paths; they deliver essential public services and act as catalysts for transformative change.
Where We Work
UN-Habitat has developed the most comprehensive approach to localize the SDGs available in the UN system, providing assistance throughout all stages of planning, policymaking, project development and monitoring. We work in numerous localities around the globe. Explore the map to see our initiatives.
If you want to know more about the mission and work of UN-Habitat, please visit our corporate website at unhabitat.org